MANIFESTING WITH ARCHANGEL RAZIEL- The Energy Secrets of Manifestation
"What If I Could Give You The Energy Secrets of Manifestation, And Guarantee You That Breakthrough?"
I've been interested in the secrets of the universe in all my life. I wanted to know how life works, how creation works, how ideas become visible, and how they create reality.
I wanted to know how we do everything, how we create, talk, grow, and shape our lives.
Over the years I discovered a lot of things.
I studied energy medicine (Reiki / Spiritual Surgery) Angular Therapy, drawing psychology. hypnotherapy, Past-Life Regression Hypnosis,
I got to know the laws of the universe. I became a committed researcher of the Law of Attraction.
It was an infinite joy for me to make most of my dreams come true with the help of the Law of Attraction.
It was an infinite joy that I could learn from my favorite expert in "The Secret", Dr. Joe Vitale.
Each course and talk about manifestation triggered questions.

How does manifestation work?

How to become an active and conscious actor and creator?
The vibration of our thoughts determines the result of the manifestation, but if the thoughts and emotions have a great impact and influence on the process, does the energy system do the same?
Does the balance of our chakras promote manifestation?
How does energy impressions affect the reaction and our lives?
Is it possible to block the realization of a crystal clear intent in the energy system? Is it in the energy pattern?
One morning I was sitting in the Akasha Shrine and asked questions like that of my manifestation angel helper Archangel Raziel.
I will present the summaries of our conversations, your instructions, instantly applicable practices, and the secrets of manifestation energy in this online and live program.
Maybe you'd like to attract a new home, business, career, car, money, or soulmate.
And what's holding you back?
I remember that at the beginning of our conversation I asked Archangel Raziel why our dreams do not come true.
Believe me, I've worked on a dream a lot. I almost became obsessed. I was dealing with this whenever I could, I made a vision board, used affirmation and so on, and success never came.

It is natural that I was curious why I could not manifest what I wanted despite all my efforts.
You have probably been in a position when you expected a wonderful result and hardly arrived at something in your life.
I closed my eyes and went to the Akasha mystery, where I met Archangel Raziel. I asked the question and waited for the answer.
Every cell in my body wanted an explanation.
I watched inwardly and enjoyed the silence. A few minutes later the thought appeared in my mind, accompanied by the colors of the rainbow:
"Do you agree with your dream? Are you at one with what you want to achieve?
Do your vibrations match the vibrations of your lust?
Are y

our thoughts

and

words the same

as

your dream?
How much of your energy is manifested in the universe?
Are your chakras clean?
Is

your energy system balance

d

?
Which chakra contains energy impressions

and

memories

that

are not identical

to

what you want?
Look for the blocks, clean

them

, bring

everything

in line with the vibration of what you want to achieve.
M

anifestation is an energetic process.
Ask and receive.
If the two streams in your energy system

are

coordinated, manifestation

will

generate great things in your life

and

you

will

get

all the blessings

in

life.

"
In the next moment, an image began to stretch out. A picture which showed how the manifesto works on the energetic level. It showed me how the most beautiful things in the world appear in our experience, as well as how unpleasant things come about.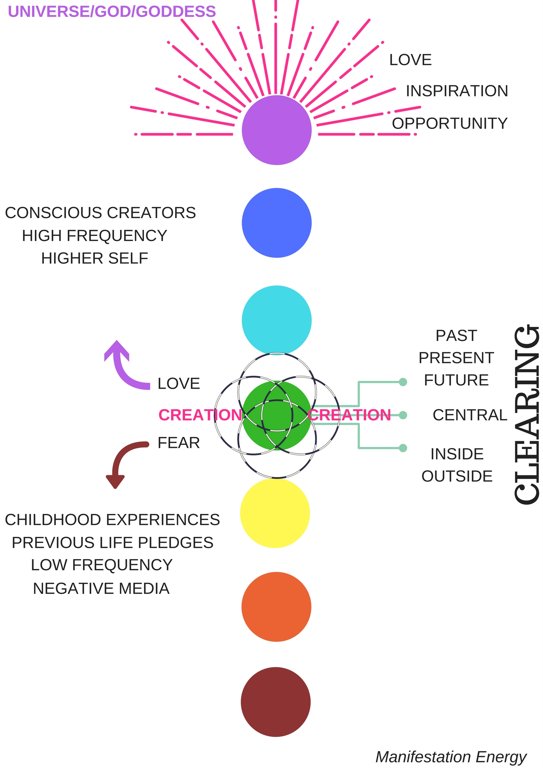 I'll share all pictures with you in this online program.
I will show you the energy process of creation.
I will guide you along the way.
I will help you uncover the blocks in your energy system, clean your chakras, and tune your energy system to a frequency that is the same as that of conscious creation.
In fact...
I'm calling you on a wonderful money-making adventure.
I will deliver a program which you can use for 30 days to increase your earnings, financial success, and get amazing cash-generating ideas.
By the end of the 30 days you'll have your financial life altered and will experience progress.
In this bonus package, you'll find a meditation mp3.
One is to help you purge your obsolete blocking beliefs about money with the power of Ho'oponopono, the other will help attract money, opportunities, and more.
Discover the energy blocks.
Work with your chakras and energy system,
Archangel Raziel uses glamorous life-changing practices.
Tune into the frequency of your dreams and create them!
Because you were born of creation.
You were born healthy. You were born rich...
The program contains the Energy Secrets of Manifestation guidebook pdf.
As a BONUS you'll get
Clearing Your Money Path online program (Value 37 USD)
and
Focus Your Financial Freedom full pdf material of E-class (Value 49 USD)
Would you like to discover your manifestation energy?
Would you like to know the energetic secrets of manifestation?
Join me, and I'll share information about how to raise the frequency of your electromagnetic field and manifest what you want.

You can buy it for the introductory price of 11.00 USD.

How to use this program?
At the beginning of the book, you will find the Chakra Mapping practice. Print the drawing in the book and use it to mark the areas where you experience blocks.
This figure will show you where you can start.
There are four more exercises on the last pages of the book.
Three practices are designed to remove the energy factors that block manifestation.
Select the one that best suits you and do it.
Apply the practice 2-3 times a week, and review the practice of chakra mapping so that you can see how your energy blocks are cleansed.
The fourth exercise promotes manifestation.
To do it choose an ideal vision of yourself. You can even work with a specific cut. Apply this every day.
As a bonus, you will find a three-week Focus Your Financial Freedom program complemented by the material of the Clear Your Money Path program.
As you can see, these two programs focus on helping to boost your financial freedom.

ClickBank is the retailer of products on this site. CLICKBANK® is a registered trademark of Click Sales Inc., a Delaware corporation located at 1444 S. Entertainment Ave., Suite 410 Boise, ID 83709, USA and used by permission. ClickBank's role as retailer does not constitute an endorsement, approval or review of these products or any claim, statement or opinion used in promotion of these products.