MANIFESTING WITH ARCHANGEL RAZIEL- The Energy Secrets of Manifestation
ebook with Extra Bonuses
Limited Time Price! All this for only 9.99 USD! Click Here To Order Now!
"What If I Could Give You The Energy Secrets of Manifestation, And Guarantee You That Breakthrough?"
Sooner or later everyone gets interested in conscious creation.
Everyone says how great life would be if they could create whatever they wanted if they could make their dreams come true.
Sooner or later everyone asks how the universe and how the Law of Attraction works.
Everyone wants to create a better future.
It is true, is it not?
Are you aware of your manifestation power?
Are you aware of your inner creator?
Do you know who you are and what your goals are?
Do you know what you want to do in life?
Imagine that you have an ability to manifest everything you want.
Just think of your dream and it will appear immediately.
When you thought about your dream, the awesome future began to blossom before your third eye.
Beautiful. Harmonious. Abundant.
Focus on this moment!
See it. Feel it! Taste it! Smell it! Touch it!
As you imagine this picture, feel your body become more and more relaxed.
Allow yourself to float at the moment.
Be free from the negative thoughts of your life and open your mind to accepting the new manifesting idea.
See your future and enjoy this wonderful picture.
Fantastic experience, isn't it?
Many people think, that the science of manifestation is a privilege.
Some people come out of this ability, some do not.
I came of my blackness, knowing that we create our lives. I thought that we could revive our future.
I thought that at every moment we go hand in hand with the Higher Power, the Source, God, with the Angels, and I believed that the universe and our world was inhabited by invisible forces.
When I started channeling Archangel Raziel's messages of the Law of Attraction, Manifestation, Conscious Creation, my sudden and unexpected turn came.
Archangel Raziel showed me techniques which caused immediate changes, and my dreams became almost instantaneous.
If you read my blog, you may have witnessed multiple manifestation stories based on the techniques of Archangel Raziel. I created the dream of my work in which I am really immersed.
I could travel to a wonderful place in a land of a foreign language to hold my workshop and created the opportunity to accomplish a long-awakening dream, becoming a Law of Attraction Master. Infinite thanks to the great teachers and mentors Dr. Steve G. Jones and Dr. Joe Vitale who walked with love on the road with me.
I've been giving you the fruit of my research for many years now.
Not just a book, but a fully online program and I will give you an immediate method to help you create everything you want.
You can awaken the power resting in you, the wonderful ability of manifestation which helps to get your life up to date.
I pass you a method which helps to discover and unlock the blocks stored in your energy system and do not let dreams come true.

This method will completely change your life.

As you read the book, Archangel Raziel's messages, your deeper insights on life will be born.
Deeper and deeper you will understand the underlying thing behind things, and be able to shape your future more easily.
Imagine a complex channeled method which brings a breakthrough to your life, raising your creative awareness to a higher level and prompting an immediate frequency change in your energy system.
As you know all the energy, the universe is based on the vibrational of the energy and responds at every moment.
Like attracts like.
Do you want to understand the importance of your energy system?
Do you want to know how your chakras are doing for manifestation?
Do you want to know the deeper teachings of the Law of Attraction?
I will show you the energy process of creation.

I will guide you along the way.
I will help you uncover the blocks in your energy system, clean your chakras, and tune your energy system to a frequency that is the same as that of conscious creation.
And as this begins to happen, you will wish you could have come across this method sooner!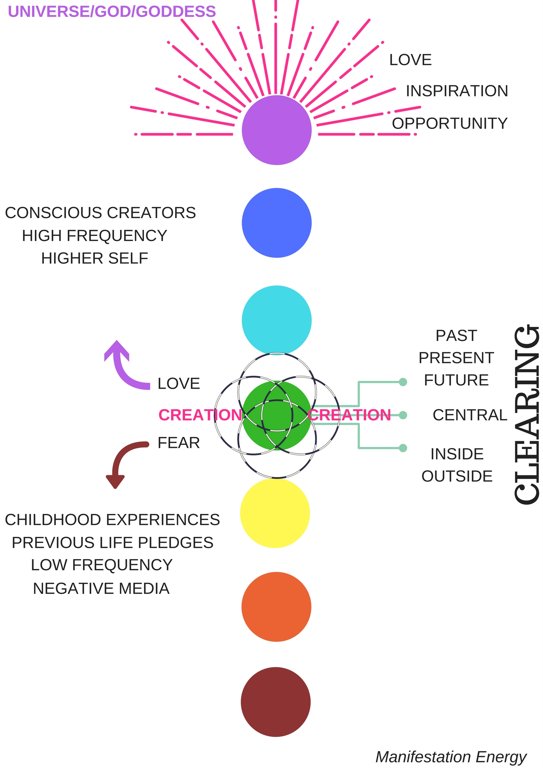 In short, what can you learn from this Program?
You can know the energetic foundations of the manifesto
You can discover the effect of universal laws on the manifestation
During this program, you can get an experience of the instant frequency modifier
You can learn, how to know the blocks of your chakras and how to release them
You'll get some awesome manifesting practices, for example, Chakra-Mapping, Chakra, and Aura Clearing with Archangel Raziel and using the phrases of Ho'oponopono
The program contains the Energy Secrets of Manifestation guidebook pdf.

As a BONUS you'll get
Clearing Your Money Path online program (Value 37 USD)
and
Focus Your Financial Freedom full pdf material of E-class (Value 49 USD)
Would you like to discover your manifestation energy?
Would you like to know the energetic secrets of manifestation?
If your answer is YES, please click here:

You can buy it for 9.99 USD.

How to use this program?
At the beginning of the book, you will find the Chakra Mapping practice. Print the drawing in the book and use it to mark the areas where you experience blocks.
This figure will show you where you can start.
There are four more exercises on the last pages of the book.
Three practices are designed to remove the energy factors that block manifestation.
Select the one that best suits you and does it.
Apply the practice 2-3 times a week, and review the practice of chakra mapping so that you can see how your energy blocks are cleansed.
The fourth exercise promotes manifestation.
To do it choose an ideal vision of yourself. You can even work with a specific cut. Apply this every day.
As a bonus, you will find a three-week Focus Your Financial Freedom program complemented by the material of the Clear Your Money Path program.
As you can see, these two programs focus on helping to boost your financial freedom.
Join me, and I'll share information about how to raise the frequency of your electromagnetic field and manifest what you want.


ClickBank is the retailer of products on this site. CLICKBANK® is a registered trademark of Click Sales Inc., a Delaware corporation located at 1444 S. Entertainment Ave., Suite 410 Boise, ID 83709, USA and used by permission. ClickBank's role as retailer does not constitute an endorsement, approval or review of these products or any claim, statement or opinion used in promotion of these products.